Cycling/Biking is an amazing adventure that helps in keeping you fit and lively while travelling through the Pearl of Africa that is blessed with an amazing altitude where most of the area lies on a plateau that makes it easy to cycle/bike around despite beautiful tropical climate that can hot/warm/chilly. With the beautiful landscapes and lovely people, your cycling tour can be one of the most amazing outdoor adventures that can bring you a lot of fun.
We have therefore added a few routes onto our journeys that go all around East Africa and this will be for the most adventurous travellers that love to lose those extra calories after a delicious African delicacy as you enjoy your travels through the pearl of Africa.
Our cycling tours will be based on the clients energy levels and  can be conducted in cities while on a city tour, villages and in some of the national parks that have less dangerous wildlife with the guidance and protection of an armed game ranger to provide security during wildlife viewing and breakdowns.
With our wide knowledge about the East African region, we have designed the trails below for a unique travel experience and memorable adventure tours.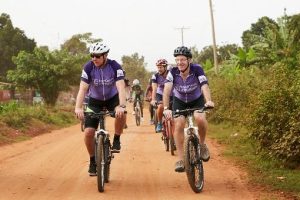 THE KARAMOJA CIRCUIT
Karamoja is one of the most beautiful and scenic travel destinations that offer great virgin African cultural experiences, beautiful sceneries, amazing and friendly people wrapped up with a wide range of wildlife in the beautiful Pian Upe Game Reserve, Matgheniko and Bokora wildlife reserves and finally the amazing Kidepo valley national park in the north eastern corner of Uganda. Expect to enjoy beautiful sunsets while on trails and picnics as you ride through the valleys and sand rivers of this beautiful region in Uganda. On this trail, have particular cycling areas that are between 20 to 50km treks and as a client, you decide what distance suits your fitness levels to enjoy it.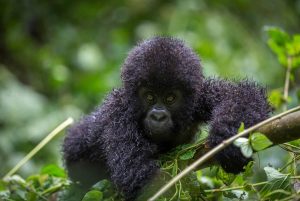 THE MOUNTAIN GORILLA TRAIL      
Mountain gorillas are endangered primates that live in the dense tropical rainforests of Uganda and Rwanda. Uganda has half of the endangered mountain gorilla population found in Bwindi and Mgahinnga national parks. The other half survives in the rainforests of Rwanda in the Volcanoes national park and in Democratic Republic of Congo in the Virunga national park.
The altitude in these areas lies between 1500m and 2500m above sea level, which makes it a little difficult to cycle uphill but adventurous as you view the beautiful views of the Kigezi highlands which Winston Churchill named the Switzerland of Africa, the dense rainforest cover of the Bwindi Impenetrable forest, the beautiful life of the rural areas and amazing people as well as primates, antelpes and birds through the park. Expect to relax and enjoy the beautiful views and the fresh forest breeze as you bike through. If you are lucky enough, you maybe chanced to meet some of the habituated of wild mountain gorillas crossing the trails
The trail distance ranges from 25km to 50km while biking.
THE AMAZING WILDLIFE TRAIL
We love wildlife but close ups are so amazing and calming. This tour is offered in two of Uganda's beautiful national parks that have less aggressive wildlife such as zebras, antelopes, giraffes, warthogs, wide range of different birds and beautiful sceneries with guidance and security of an armed game ranger. Lake Mburo national park is Uganda's smallest savannah reserve that is home to a wide range of beautiful wildlife, vegetation and scenery that offer than just a biking experience in the park. Pian Upe game reserve is the largest savannah wildlife reserve that offers amazing encounters with Ostriches, Roan antelope's, different types of birds, giraffes, zebras, black eared Kobs, and much more wildlife that is less aggressive and dangerous to humans. The trips in these reserves done in hours and not distance, the distance depends on the sightings, but expect to ride between 3-5 hours depending on your fitness and health.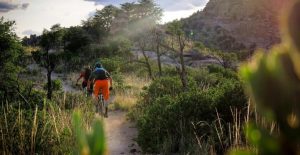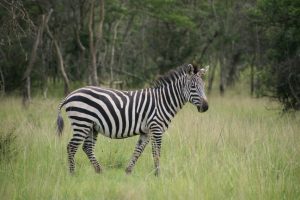 One best thing about Lake Mburo and Pian Upe, is the easy altitude with very little uphill cycling.
THE CRATER LAKES TRAIL
A lot of volcanic and volcanic activity happened in Uganda millions of years ago and this resulted into a lot of beautiful Crater which offer great scenic views for amazing photography and exploration. These craters are found in the western pat the country close to Kibale national park that is home to 11 different primate species such as chimpanzees, bush baby's, baboons, different types of monkeys and wide range of bird species such as the great blue turacco that is so eye catching while exploring the dense rain forest. In this area we offer either a half day or full biking experience which takes you around the craters, spiced with community tours to the herbs men, coffee roasting experiences, banana beer brewing, basket weaving, swimming in the disease free lakes and waterfall visits around the region.
Our other trail is located in Rubirizi, which is located close to queen Elizabeth national park and is home to a wide number of wild animals and over 600 bird species  making a perfect place to visit for all types of travellers that are interested in exploring the off the beaten track areas to suit all interests. The trail in this region can also be done on either half day or full day depending on the clients fitness levels and offers a wide range of local community tourism activities such as nature walks, canoe fishing, coffee roasting, cave visits, traditional healer visits and Ugandan food preparations. The altitude in the area is medium difficulty
THE MAASAI TRAIL
When we talk about culture, the Masai are some of the tribes in the world that have tried to keep their over millions of years. Cycling through these villages as you learn about their day to day livelihoods can be a life changing game especially to those that love interacting with people while on safari in Africa. This trail is done en-route Masai Mara national reserve in Kenya where you are expected to ride between 20-50 km on the African roads as you enjoy a wide open scenery with lots of wildlife such as Wild beasts, giraffes, zebras, gazelles, ostriches and much more animals that live and interact freely with the people living around the conservation area
The temperatures can be hot during the day due to the low altitude, therefore expect to do this either in the morning or evening hours